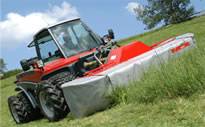 Terratrac picture gallery >
Aebi Terratrac
King of the slopes.
El Aebi Terratrac son versátiles aplicar los transportistas, para su utilización en terrenos en pendiente, con apego a las zonas de la parte delantera y trasera. Gracias a la ligera, amplia, con un diseño de bajo centro de gravedad y de idéntico tamaño neumáticos todoterreno, están completamente como en casa en una pendiente del terreno y minimiza la compactación del suelo. El programa finamente graduado Terratrac abarca modelos con mecánica o con progresión de transmisión hidrostática.
La delantera y trasera de serie que dispone el Terratrac puede utilizarse todo el año. Disco, tambor o mayal segadoras, banda hay rastro, cargador frontal, la nieve o nieve arado ventilador puede ser montado en el frente. La Parte trasera se aplica por ejemplo para: grada rotativa, arado, remolque, cargador de bala y ronda de prensa. Su gama de aplicaciones es casi ilimitada.

The Terratrac – ingenious state-of-the-art technology, a host of potential applications and a first-class investment.